Campus Weekly is published each Wednesday when classes are in session. In the summer, it is published biweekly.
SECC supports more than 1,000 charitable organizations in the region and state

His passion for organic chemistry is infectious

Magazine editor and UNCG alumna Elizabeth Hudson tells of her Spartan journey
As millions of Syrian refugees continue to pour into the European Union, the world is being called on to aid in the inevitable process of resettlement outside of Syria.  The Obama administration has responded with promises of finding resettlement of 10,000 Syrians within the United States. Public … [Read More...]
UNCG students, faculty and staff gathered at Moran Commons and Plaza Tuesday to hear the big news: The University of North Carolina at Greensboro is one of … [Read More...]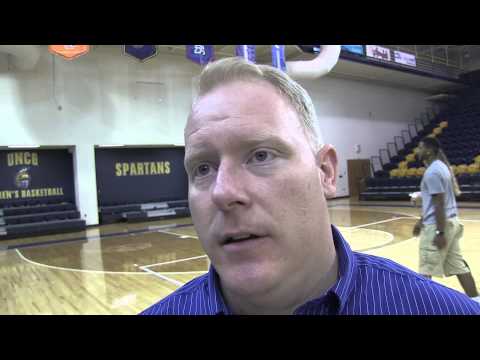 One of the best spectator sports at UNCG is volleyball. You're on top of the action and it's fast-paced – admission is free. They have 10 wins, 5 losses. The schedule is at http://www.uncgspartans.com/SportSelect.dbml?DB_OEM_ID=32200&SPID=137656&SPSID=8
The Contemporary Classics Poetry Series of Carnegie Mellon University Press will reissue Professor Stuart Dischell's collection "Evenings & … [Read More...]
Dr. Perry Flynn (Communication Sciences and Disorders) has received funding from Phoenix Academy for a "Speech Language Pathology Service Contract … [Read More...]
Speaking Center Director Kim Cuny and Assistant Director Erin Ellis have each published an essay in the new book "Communicating Advice."  Both essays … [Read More...]
Talk, "Truth and Reconciliation in Greensboro," Spoma Jovanovic
Wednesday, Sept. 30, 4 p.m., Pecky Cypress Room, Alumni House
Talk, Bill Ferris and Joel Williamson, "Maud Gatewood: Artistic Voice of the South"
Thursday, Oct. 1, Weatherspoon Auditorium, 5:30 p.m.
Musical, "Hairspray"
Thursday, Oct. 1, 7:30 p.m., Taylor Theatre
Psychology topics, Kendon Smith Lectures
Thursday-Friday, Oct. 1-2
Forum on strategic planning
Monday, Oct. 5, 3-5 p.m., Recital Hall, Music Building
Staff Senate meeting, with Chancellor Gilliam
Thursday, Oct. 8, Alumni House, 10 a.m.