Campus Weekly is published each Wednesday when classes are in session. In the summer, it is published biweekly.
UNCG Wind Ensemble's first European tour in its history

Jax and Sergeant Marcus Graves are part of K-9 unit

Violinist Nadja Salerno-Sonnenberg in series this Sunday
Astrophysics is one of the research and teaching directions in UNCG's Department of Physics and Astronomy. At least two of the three undergraduate courses in astronomy (AST-209, Astronomy: The Solar System and AST-235, Astronomy: Stars and Galaxies) and astrophysics (PHY-330) are offered every … [Read More...]
The design of the UNCG Pedestrian Underpass is a top 100 award winner in this year's CODAawards. These awards of the global online Community of Art and … [Read More...]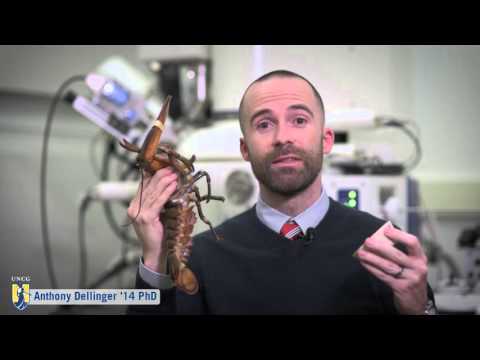 Dr. Anthony Dellinger '14 had a delightfully fishy experience with UNCG. He rigorously researched a sustainable replacement for bait fish while earning his doctorate at the Joint School of Nanoscience and Nanoengineering, a joint venture of UNCG and NC A&T State. And thanks to the entrepreneurial focus of the school, and a partnership with Dr. Christopher Kepley, that research has become a viable business. Organobait was formulated to replace the use of wild fish stocks as the primary bait in commercial lobster and crab traps. He praises JSNN's unique nature, which emphasizes not only academics but also teaches business aspects of the field including funding, business development and patent creation. "It offers students an extremely novel and diverse educational experience."
You can read more in the latest UNCG Magazine, alumnimagazine.uncg.edu.
Dr.  John Willse (Educational Research Methodology) received new funding from Castle Worldwide for an OAERS contract with Castle Worldwide Inc. … [Read More...]
Independence Day holiday
July 4, classes dismissed; offices closed
Staff Senate Executive Team Meeting
Thursday, July 7, 10 a.m., MHRA 2603
Make-A-Wish / HRL "wish reveal"
Thursday, July 7, 4 p.m., Tillman-Smart room, Shaw Hall
EMF Faculty Chamber Series concert
Monday, July 11, 8 p.m., Music Building Recital Hall
Staff Senate meeting
Thursday, July 14, 10 a.m., Alumni House