Great teachers tell students to shoot for the stars. UNCG School of Education students literally help them do it.
This past spring, UNCG's School of Education's SELF Design Studio (SDS) worked with the Kiser Middle School Meteorology Club and N.C. Near Space to launch a high-altitude balloon into the stratosphere, more than 100,000 feet above the earth's surface.
With the help of UNCG student and pre-service educator Eric Winkelman, and N.C. Near Space's Paul Lowell, Kiser students began designing their payload, contemplating what to send to the stratosphere. Ideas ranged from Hot Cheetos to a bacon shell, to see if it would cook from exposure to solar radiation. Finally, they decided on a raw egg, and created world's highest egg drop experiment, and they also sent along a small tiger, Kiser's mascot.
In the weeks leading up to the launch, Winkelman led the students testing parachute designs, building an extension arm, and practicing filming videos with on-board cameras. The balloon was cleared for launch by the Greensboro Fire Department, and the Kiser students were assigned to Mission Control, Launch Control and C
hase teams.
On the morning of May 8, the Launch team arrived at 7 a.m. at the Grimsley High School football field to set up for the big moment. A few minutes after 9 a.m., with the balloon filled with hydrogen, the cameras activated and the payload secure, the students counted down and released the tether line holding the balloon. Over the next hour, the balloon drifted to its highest altitude of 102,000, when it burst over Apex, North Carolina. 
From there, the attached eight-sided parachute (created with rip-stop nylon, string, sewing thread and lots of hot glue), descended into the field of a lumber yard in Smithfield. The Chase team, led by UNCG SDS Assistant Director Matt Fisher, recovered the payload and returned to Kiser to preview with the Kiser students the on-board video captured in flight.
The onboard tracking devices tracked the payload's location for the entire journey and gathered data for the Meteorology Club. The data can also be used to inspire new ideas for their next launch, planned for Spring 2018.
See full documentation of the project on the NC Near Space page for Space Flight 53 and watch the video below of the launch, flight and descent: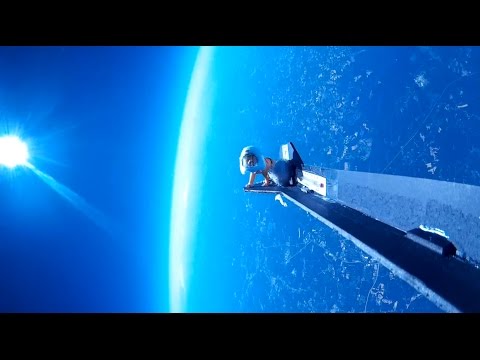 Copy and photographs courtesy of UNCG's SELF Design Studio.