Campus Weekly is published each Wednesday when classes are in session. In the summer, it is published biweekly.
UNCG Theatre's "As You Like It," opens Sept. 22, shows off modern set and costume designs.

Help the Spartans post another winning season, and get cash back, with a new season-ticket referral program.

The new wellness center joins several other facilities on campus with high ratings by the U.S. Green Building Council.
Director of Athletics Kim Record has been named chair of the NCAA Division I Competition Oversight Committee. Record began her tenure this summer and her term as chair will run until June, 2019. The committee consists of 19 members: 10 Division I council members, eight non-council members and one … [Read More...]
As newly minted chair Andrea Hunter remarked at the Faculty Senate's inaugural meeting of the semester, it is time for Giant Steps. At the Sept. 6 meeting, … [Read More...]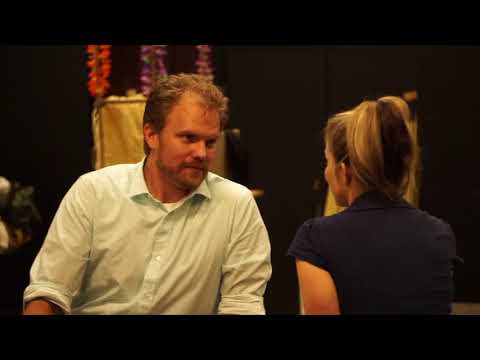 A 20 percent discount on "South Pacific" tickets is available to UNCG faculty and staff. Triad Stage and UNCG Theatre have partnered to bring the grand Rodgers and Hammerstein musical to the Triad. More than twenty Spartan students, faculty and alumni are involved in the production, along with stellar guest artists. Receive a 20 percent discount by using the code "BALIHAI" when you place your order. Additionally, The White and Wood downtown offers a discount on tickets. Questions about ticket discounts? Call (336) 272-0160 or visit the Triad Stage box office.
Kara Baldwin (Special Support Services) received continuation of funding from the U.S. Department of Education for the project "Student Support … [Read More...]
Dr. John Kiss (Dean of the College of Arts and Sciences) received new funding from the National Aeronautics and Space Administration (NASA) for the … [Read More...]
Dr. Paul Knapp (Geography) received continued funding from the National Science Foundation for the project "A multi-century reconstruction of tropical … [Read More...]
Dr. Arthur Murphy (Anthropology) received a competitive renewal of funding in the amount of $676,578 from the Department of Health and Human Services … [Read More...]
Dr. Louisa Raisbeck (Kinesiology) received new funding from the National Institutes of Health for the project "Merging attentional focus and balance … [Read More...]
Strategic Plan website launches
Wednesday, Sept. 20
General Education Program Assessment Forum
Wednesday, Sept. 20, 10 a.m. and Thursday, Sept. 21, noon, Room 140, McIver Building
General Faculty Meeting & Convocation
Sept. 20, 3 p.m., Alumni House
Vintage Viands: North Carolina Edition
Friday, Sept. 22, 12 p.m., Jackson Library Reading Room, main level
'As You Like It,' directed by John Gulley
Friday, Sept. 22, 7:30 p.m., Taylor Theatre
'Comanche: Hero Complexities'
Friday, Sept. 22, 7 p.m., UNCG Auditorium
Guest Artist Recital: Ko Eun Lee, piano
Friday, Sept. 22, 7:30 p.m., Recital Hall
Asian Autumn Festival
Saturday, Sept. 23, 11 a.m., EUC
Men's Soccer vs. Appalachian State
Saturday, Sept. 23, 7 p.m.